Technical Specifications of Die Cutting Belts

Type
Total Thickness (mm)
Weight (Kgs./sq. mtr.) Approx.
Min. Pulley Dia (mm)
Pull for 1% elongation (Kgs/cm)
Tensile Strength (Kgs/cm)

Top Surface

Driving Surface

Max. Temp. Resistance (oC)

Col.
Mat.
COF
Col.
Mat.
COF
FF-2
3.4
3.7
200
28
700
B
F
0.2
B
F
0.2
80
F-2
3.1
3.5
200
28
700
B
N
0.2
B
F
0.2
80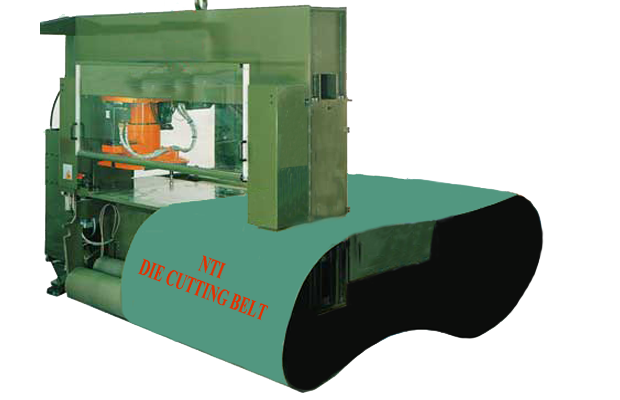 NTI India Pvt Ltd manufactures and Supplies top quality Die cutting belts. These belts are made of best raw material and designed to provice significant cut resistance. Low Friction on bottom surfaces makes our belts perfectly suitable for slider bed purposes. Die Cutting Belt is multi layered, provides flat cutting surface area and does not need penetration for cutting difficult materials.The long life of the belt (1,000,000 Impressions-Standard) can be achieved by the special belt shift device and the automated setting of mechanical positive stop all standard on ATOM cutting systems.
The die cutting belts are in available in various types. The usage and choice of the belt depends upon the die cutting material and toll tha is to be cut. The diameter of the roller also plays and important role in selection of belt. The Diameter of roller increases with the thickness of die cutting belts
Since 1992, we are manufacturing extra ordinary and advanced quality Die Cutting Belts which is applied for cutting different materials like leather, plastic, fabrics and more. Our die cutting belts has multi layers which provides a flat surface to cutting that will help in cutting difficult material without any obstacle and the finishing of cutting will be superior. We are eminent in providing die cutting belts in popular sizes and our shipment will be in 48 hours. These belts are accessible in variety of sizes and customers can choose the quality of belts as per their requirements and usages. Our primary focus is on the quality of the product and we never compromise with belts quality. Our belts have long life and could be used in long term as well as these belts are repairable. We have customers of Die cutting belts from USA,UK and we supplying such products as per the usage and requirements of clients. Variety of popular sizes are available at NTI India pvt ltd thus, consult your requirements with us for attaining desired product. Interested buddies can visit our website and gone through with technical specifications of Die Cutting Belts which are mentioned. For getting the best suitable die cutting belts you may consult it with our technical team who mentor you about the best matched product as per your needs. Our 24 hours availability policy makes us more professional and attentive towards the customers.